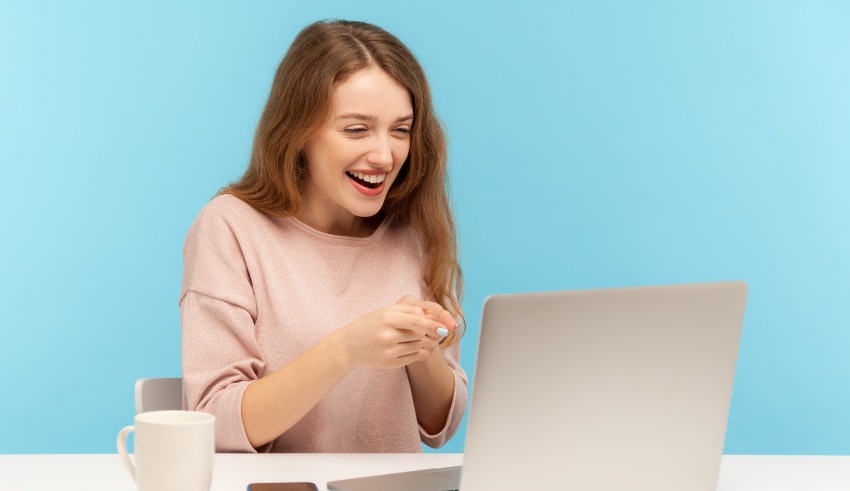 Hey, we need you. Positive businesswoman in casual clothes pointing to laptop screen, choosing lucky winner while talking on video call, sitting at workplace home office. indoor studio shot, isolated
Imagine: The office chair is your couch. You don't have to commute, just walk the length of your hallway. Your pantry is your snack drawer. Does it sound like a dream? This is not a dream these days since many got to experience this as a result of the pandemic. Working from-home jobs have become a reality.
 Working from-home jobs also known as telecommuting, are here to stay. According to a recent survey by the Bureau of Labor Statistics, about 57% of workers in 2018 were working under a flexible schedule. 42 million salary and wage workers (29%) worked from home. 25% (36 million workers) worked from home.
There are some who are ready to take a pay cut if it means they get to work from home. There was a study done on remote work and they found that 34% of workers would take a 5% cut; 24% a 10% cut; and 20% a 10% cut or more. The main reasons why people are willing to cut down their salary for remote work are as follows. 91% said a better work-life balance, 79% better focus/ increased productivity, 78% avoid commuting, and 78% less stress.
Working from home has become a hot topic because the marketplace is very tight. One tool that companies are using to compete for top talent is attracting potential employees and retaining the existing ones is work-from-home arrangements.
Many companies are looking for ways of enticing their employees, including offering work-from-home and flex-time options. Many people are more likely to accept a job offering them the ability to work from home even if it is in part. 
Working from home is great in theory, but it is important to know the cons and pros so you can maximize the arrangement.
 If you want to work a remote job, below are some potentials advantages and some cons that you need to keep in mind:
Pros
You have true independence. You have the chance of working in your pajamas. When you work from home, you have to rely on your self-discipline, self-motivation, concentration, and focus.
 When you are going through your career, the above are some important components for success. This sounds obvious and simple but scheduling and time management are one of the most important skills you are going to need.
You will do more work. Provided you don't sneak off to watch Netflix for hours, you are going to be very productive working from home.
Working remotely means you don't have to spend hours commuting. You can add more hours to your day by not commuting to your workplace. This makes your day more productive and you can use the time on more important things. You may even end up thinking maybe you should scrap your car.
When you work from home, you don't have to deal with the occasional annoyance that people experience when they work in an office; loud co-workers, interruptions, chatter, etc.
 You become a communications expert. When it is not possible to be in a quick meeting break, then you have to turn to other communication tools at your disposal. Some of them include emailing, Skyping, texting, and web meetings. They are important because that is how you keep up with the rest. With time, you will find yourself savvy in all of those communication tools.
Cons
You can easily forget to clock out. Some see working from home as a way to do less, but the opposite can be true for diligent employees. It is easy for your workday to blur together with your home life because there is no separation between going to and from the office. When you keep feeling like you are always "at work", it can easily lead to burnout.
Feeling out of the loop. This is something you might not realize till you are at the office, but there is a lot of collaboration happening at the workplace. Whether it is an impromptu brainstorming session or picking up on the best practices from a colleague, it is hard to get this when you are working from home.
You have access to technology platforms, but not full access. Things like cloud technology have made things easier for remote workers because they can easily work from anywhere. There are some instances where consumer protection or data security can prevent you from having full access. This can make things a little more challenging for you.
You might be accused of slacking by your co-workers. When working from home and you can't pick up the call or open the email right away, some co-workers might not be ready to give you the leeway you would have gotten if you were working in the office. Some will start questioning whether you are taking it easy instead of pulling your weight. This is why those working from home are forced to overcommunicate what they are doing and what they have accomplished.
Tips for working from home
Face time. You shouldn't underestimate it. You need to communicate more than normal because it boosts camaraderie. You don't have a lot of opportunities for team building when you are working from home. You need to be proactive and look for ways of engaging with co-workers.
 You should call and congratulate someone for a job well done, or the completion of a project. This is going to be better than sending them an email. 
Keeping it professional. Not having a dedicated office in your home doesn't mean you just have to leave it like that. You should set up your workspace where you can work without interruptions. Limit this area to the rest of your household. You don't want to be on an important call and then someone rings the doorbell, the kids scream in the background, or the dog barks.
Always ensure you put your best foot forward- ensure all your work facing social media looks professional. Ensure you've a good looking profile picture and a good looking biography – here are some bio ideas and make sure people can take you seriously.
Being responsive. When you get an email, make an effort of replying promptly even if it is to say you will get back to them or you got it. Make sure you are also available for conference calls and other collaborations. Do it even if your work hours aren't that strict.
 Setting specific touchpoints with the team. You should have a time set aside every week or day where you check in with your colleagues and/or manager. This helps in staying accountable and also reminds the rest that you are an important member of the team.